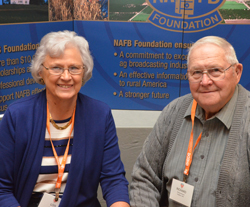 The National Association of Farm Broadcasting (NAFB) Foundation has a booth here at the 2013 Convention in Kansas City, which is being manned by Lois and Richard Brand, parents of NAFB Executive Director Tom Brand.
"People have an opportunity to donate to the foundation which provides scholarships for potential farm broadcasters," said Lois. The scholarships help students interested in the profession to get the "farm word out" while also being able to network with professionals in the industry.
Lois says they have several perks for donating to the Foundation during the convention. Anybody that donates at least $100 gets entered in a drawing to win $500 toward the auction that will be held here at the convention. If they donate $250 they get a chance to win the classic farm print "Farm Broadcasting Through the Decades."
The foundation is striving to achieve a goal of $10,000 in donations this year to continue encouraging the next generation of farm broadcasters. Even if you are not at convention and would like to donate, please find out how on the NAFB Foundation website.
Listen to Leah's interview with Lois and Richard here: Lois and Richard Brand
2013 NAFB Convention Photo Album