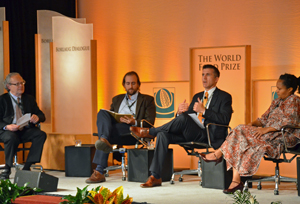 Novus International president and CEO Thad Simons moderated a two-part panel discussion on the next generation and what technologies will be "enabling smallholder farmers in the future to be part of the agricultural revolution."
The panels focused on "Capacity and Capitol" in the morning and "Beyond the Big Idea" in the afternoon. "We were happy to be able to show in the morning session how venture capitol is coming in to support entrepreneurs in India and then this afternoon we really got into some of the precision agriculture tools that are being developed right now," said Thad. The afternoon panel members pictured included Peter Frykman, Founder and CEO of Driptech; Matt Burkhart, VP of the Applied Technology Division for Raven Industries; and Dr. Charity Kawira Mutegi of Kenya, recipient of the 2013 World Food Prize Borlaug Award for Field Research and Application.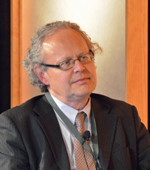 Thad was wearing two hats at the World Food Prize symposium, since he is currently serving as president of the International Food & Agribusiness Management Association (IFAMA), which will hold its 2014 World Forum and Symposium in Cape Town, South Africa. "We'll be talking a lot about how we link smallholder farmers into markets," he said, adding that IFAMA will include a "Youth Day" to educate young Africans about careers in agriculture. "They're leaving the farm, they don't see it as being a good place to work but we've heard about all of these great technologies and opportunities," said Thad.
"The Road to 2050: The African Factor – Meeting Future Needs of Food and Agriculture" is the theme of the 24th Annual IFAMA World Forum and Symposium which will be held June 15-19, 2014 in Cape Town.Interview with Thad Simons, Novus International
2013 World Food Prize photos