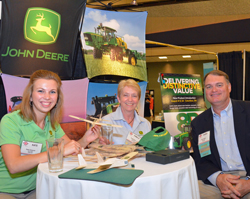 At the Ag Media Summit last week, our friends with John Deere were talking about the upcoming 2014 product launch in Columbus, Ohio.
"We're launching a lot of our new products for 2014 at the Columbus Convention Center," said Barry Nelson. "We're bringing in about 45 of the ag media … and the final wave of all the dealers that come in to learn about the new machines that they're going to be able to sell."
The theme is "Delivering Distinctive Value" and Barry says it's not just about the machinery itself, but the technology that goes with it. "A lot of the new technology we'll be rolling out – new wireless systems, advancements in precision technology," Barry added.
We are looking forward to being there next week in Columbus, Ohio, Aug. 21-22, for the 2014 John Deere product launch event. It will be me there this time, since Chuck will be at the AgVocacy 2.0 Conference in Charlotte, NC. Can't wait!
Listen to my interview with Barry from AMS here: Interview with Barry Nelson
2013 Ag Media Summit Photo Album