I spent much of this weekend participating in a SwineLink network event in Des Moines, Iowa, an event for women in the swine industry that was sponsored by Boehringer Ingelheim.  I was surrounded by women, several who were swine vets and others working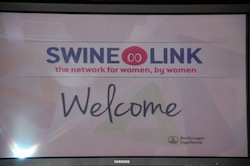 in other facets of the business, learning about how to succeed in a male dominated industry, tips and tactics for success and learning about some of the key issues affecting swine herds today.
The event kicked off at Meredith Corporation's test kitchen with a presentation from Betsy Freese, Editor in Chief, Living the Country Life and Executive Editor of Successful Farming. Nearly 30 years ago, Freese began her career covering the pork industry as reporter and has since risen to the top with her Pork Powerhouse. Her presentation, Challenges & Success Indicators as a Female in the Swine Industry, focused on the growth of her career and how she managed challenges along the way.
The group also heard from Jane Fallon, Vice President of Cargill Pork, who moved from her comfort zone, she was a commodities trader, to overseeing the company's pork business. During her presentation, "Gaining Respect in the Swine Industry," she talked about where her career has taken her over the years and why she left her comfort zone to tackle a new, challenging position.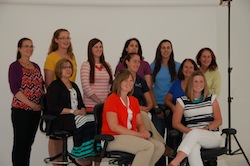 In addition to the presentations, the group also toured Meredith's test kitchen, test garden, photography areas where they conduct the photo shoots of all the food found in various publications and along the way, participated in their own photo shoot.
I learned a great deal not only from the presenters, but also from all the participants. From women who recently joined the industry, to the veterans, the weekend offered a perfect setting for networking and learning. The group is open to women working in all rolls in the swine industry and there will be more Swine Link events over the next few months so keep your eye out for the news from BI.
Check out the photos from the event in the Swine Link photo album.