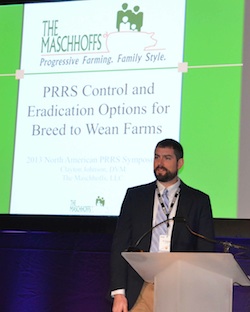 The recent Boehringer Ingelheim PRRS Seminar in Chicago, IL, brought swine animal health experts from around the world together to discuss research studies and compare and contrast notes on the PRRS virus.
I spoke with Dr. Clayton Johnson after his presentation on the application of PRRS control protocols. Dr. Johnson is the Director of Health at The Maschhoffs.
"We were fortunate to get exposed to a lot of the good work that was coming out of the University of Minnesota last year in the time to negative pig study. That work allowed us to make make some estimates about what prior immunity was worth on our sow farms. Sow farms that had been exposed to PRRS and particularly sow farms in high pig density areas where they typically get exposed to PRRS on a regular basis. What is that prior immunity worth knowing they are likely to be exposed despite our best bio security methods. What we found through Daniels (Dr. Daniel Linhares, PIC/Agroceres) work was that the prior immunity could be quantified in the terms of weaned pig output out of that sow farm in the face of the next PRRS break. That weaned pig output was distractingly higher on farms with prior immunity compared to farms that were naive to prior immunity."
Dr. Johnson also hit on the load, close and expose strategy they take in PRRS management, compared current performance vs. historical performance and their research into bringing the immunity to gilt development farms.
Listen to my interview with Clayton here: Interview with Dr. Clayton Johnson, The Maschhoffs
Here are photos from the event:2013 BIVI PRSS ARC&E Seminar Photo Album