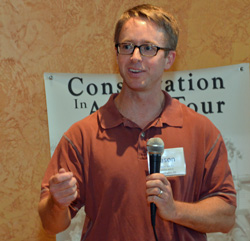 The Acting Chief of the USDA Natural Resources Conservation Service, Jason Weller, welcomed attendees to the Conservation Technology Information Center, 2013 Conservation in Action Tour, being held in Illinois. We got to talk for a few moments this evening and hopefully will have another chance tomorrow on the tour. I asked him how important a farm bill is to a department like NRCS. He says it's "critical" not just for NRCS but for for USDA as a whole. It's important to have a "long-term game plan or roadmap." This provides some certainty for farmers to know what to expect in the future. Jason says that conservation has become part of a business operating plan for farmers.
You can listen to my interview with Jason here: Interview with Jason Weller, USDA-NRCS
I will be conducting a lot of interviews during our day long intensive farm tour tomorrow to share in coming days so keep your eye on AgWired if you're interested in conservation.
You can find photos of the tour here: 2013 Conservation in Action Tour Photo Album