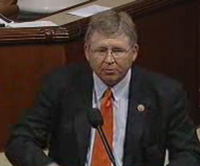 Despite an impassioned plea by House Agriculture Committee Chairman Frank Lucas to "move this bill forward" the Federal Agriculture Reform and Risk Management Act of 2013 (FARRM) failed on a vote of 194 to 234, with 60 Republicans joining the majority of Democrats to defeat the House version of the farm bill.
"If it fails today, I can't guarantee you'll see in this Congress another attempt," said Lucas. "If you care about your folks, if you care about this institution … vote with me on final. If you don't, when you leave here they'll just say it's a dysfunctional body, a broken institution full of dysfunctional people. That's not true!"
Sorry, Frank – it appears it is true.
Listen to Rep. Lucas urging his colleagues to vote for the bill Rep. Frank Lucas on the House farm bill
Link to Roll Call vote – take note of who voted against the bill for future reference!