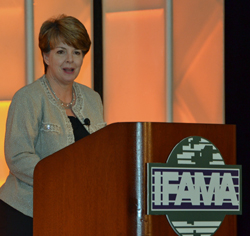 When you think of agricultural education, Harvard is probably one of the last institutes of higher learning that comes to mind, but think again.
Mary Shelman is director of the agribusiness program at Harvard Business School and has been president of the International Food and Agribusiness Management Association (IFAMA).
"The very term agribusiness was created by a colleague of mine at Harvard Business School who wrote a book in 1958 called "The Concept of Agribusiness" so we've been looking at this field for an extremely long time," Shelman said in an interview at the 23rd annual IFAMA World Forum this week. In fact, she says the same colleague who coined the term agribusiness was responsible for the creation of IFAMA 23 years ago as a way for industry and the academic community to work jointly toward professionalizing agribusiness education.
Listen to my interview with Mary here: Interview with outgoing IFAMA president Mary Shelman, Harvard Business School IFAMA president Mary Shelman remarks
IFAMA 23rd World Forum Photo Album