This morning, Bill Luckey, pork producer from Columbus, Nebraska and National Pork Producers Council (NPPC) director gave an update during the second day of 2013 World Pork Expo on science and technology updates including antibiotics and animal welfare.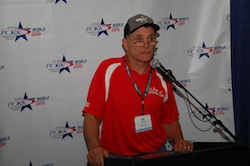 In terms of antibiotics, Luckey said NPPC has been actively involved in the Animal Drug User Act. It has moved all the way through Congress and has passed both the House and the Senate with no amendments. The Act provides funding for the timely review of the new animal drug applications for the veterinary products.
On the regulatory front Luckey said there are some issues going on with antibiotic availability and veterinary oversight. The industry is waiting for the FDA to finalize the guidance for 2013, which requests that animal health manufacturers voluntarily give up their growth hormone promotion labels for antibiotics for classes that are also used for human medicine.
Listen to Bill Luckey's remarks here: NPPC Science & Technology Update
Visit the 2013 World Pork Expo photo album.