In just a few hours with almost no changes, the Senate Agriculture Committee voted 15-5 today to approve the Agriculture Reform, Food and Jobs Act of 2013.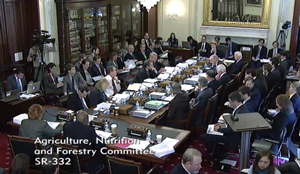 "This bill reflects agriculture's cuts from the sequester and goes beyond that in spending reductions by making tough decisions and setting priorities that make sense for farmers, families, and taxpayers," said Committee Chairwoman Debbie Stabenow (D-Mich).
"It's going to save off the baseline $24 billion over the life of the bill," said Ranking Member Sen. Thad Cochran (R-Miss.) "We've made some reductions. We've streamlined and consolidated programs. There is also significantly less mandatory money authorized for energy programs than in the 2008 Farm Bill."
Among the five senators who voted against the bill was Pat Roberts (R-Kan.) "I still want to pass a Farm Bill and provide long-term certainty to farmers, ranchers, and their families in Kansas and across the country," said Roberts. "However, as it stands at this point today, this is not a reform bill. This is a rearview mirror bill."
The bill is expected to move to the Senate floor next week.