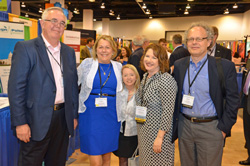 The trade show at the Agri-Marketing Conference is called the Connection Point and for good reason. It's a very easy place to find and connect with each other and I personally think the ZimmComm booth is where you should start.
Here's Cindy with the Novus International team during our opening Connection Point session. We'll be seeing and hearing more from our 2013 Agribusiness Leader of the Year, Thad Simons, pictured on the right.
We've been chatting with agrimarketers and ag media about our AgNewsWire.AgWired.com announcement and the feedback has been tremendous. We create so much media content over the course of the year that we decided to make our news release distribution service into the ag media's online ag news service! Read more about it here.
We've also received a lot of student interest in our new Student Agri-Blogging Internship program. We're preparing a form for them to apply online and will be posting that asap.
2013 Agri-Marketing Conference Photo Album