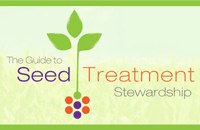 A guide to seed treatment stewardship is a new project by the American Seed Trade Association along with a collaboration of seed companies, researchers and organizations like CropLife America, National Corn Growers Association and Farm Bureau. Growers will soon find "The Guide to Seed Treatment Stewardship" online.
I spoke with Andy Lavigne, ASTA President/CEO, during Commodity Classic about this project which is very timely since growers are getting ready to get back out in the field. The guide will answer questions like, "How can I protect my treated seeds; What environmental factors should I consider when planting treated seeds; Am I following state and federal regulations for treated seed and What should I do with unused treated seed?"
Right now growers have an incentive to visit and sign up for notifications at www.seed-treatment-guide.com. Two lucky people will win a $500 cash prize!
Listen to my interview with Andy here: Interview with Andy Lavigne
2013 Commodity Classic Photo Album