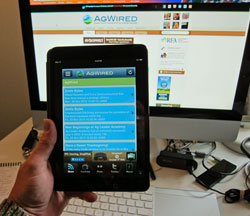 I have been using my iPad mini for about four days now. Just thought I'd share a few thoughts since I've been getting emails and messages from people wondering which iPad they should buy this holiday season. My advice includes taking a serious look at the mini. Here's mine in my hand displaying the AgWired App at full screen.
The first impression I had of the new iPad mini is of course the size. It's more like a paperback book than a large hardback. It is lighter and that makes extended reading or browsing much easier on your hands and arms. I have no problem with the smaller screen. I got the wifi only version since I have two phones that can make a hotspot. Why have another plan?
The mini uses the same lightning connector as the iPhone 5 so now I have two cables! I was going to buy an extra one until I realized the iPad mini comes with one.
Battery life on the mini has been impressive. I'm not doing a bench test review here but after using the device over several days I had only used a fraction of the battery that my (now old) iPad would have for the same amount of use.
This is just a first impression. I'm impressed! I love the size, the battery life and my travel bag is now lighter. I have no negative comments. Do you have one? What do you think? Please feel free to comment.