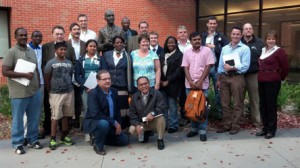 This year's Global Farmer Roundtable at the World Food Prize hosted another great group of producers from around the world. Participants at this event included 17 producers from Canada, Honduras, India, Mexico, New Zealand, Philippines, South Africa, Swaziland, United Kingdom, Uruguay, US, Zambia, and Zimbabwe.
This annual roundtable is organized by Truth About Trade & Technology (TATT), a nonprofit advocacy group led by farmers, and this is the 7th year for the event. "We took the farmers to Iowa State to the seed lab first then went out to Couser cattle farm at Nevada," said TATT Chairman Emeritus Dean Kleckner. "But the best part was the roundtable discussion as they talked about what they saw in agriculture coming down the road and what they wanted to happen."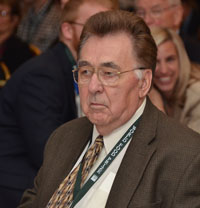 Dean says most of the producers want to use biotechnology, even those coming from countries where the use of biotech crops is prohibited. "Biotech is here to stay, it's the new conventional agriculture," he said, noting that those producers who are unable to use biotech crops believe they are at a disadvantage. "And I agree with them that they are disadvantaged against the U.S. and Argentina and Canada and South Africa and other countries that do use biotechnology."
Dean said Rajesh Kumar of Salem, India was the 2012 recipient of the Kleckner Trade & Technology Advancement Award. "India is a country that does not allow biotech except for cotton and they've had tremendous yield increases in India with biotech cotton," he noted.
Rajesh farms 55 acres in southern India, using irrigation to grow sweetcorn, tomatoes, brinjal (eggplant) and other vegetables and he would very much like for his country to embrace biotechnology. "India has a desperate need for agricultural biotechnology," he said in a TATT press release. "It is for our overall self-development that tools like biotechnology must be available so farmers can produce enough food for our people."
You can see more photos from the TATT Global Farmer Roundtable on their Facebook page.
Listen to my interview with Dean from World Food Prize: Interview with Dean Kleckner
View the World Food Prize Photo Album here.
AgWired coverage of the World Food Prize is sponsored by Elanco