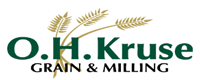 Let's meet O.H. Kruse Grain & Milling. I have chosen to accept the mission. That is Mission: Possible. It's the first ever company Dealer Appreciation Day. I'll be there providing coverage next Tuesday, October 23.
You can get a preview of what will be taking place via my interview this morning with Clark Springfield, Division Manager, Western Feed Supplements, Western Milling. He says the feed industry is operating under unprecedented conditions. Commodities are at all-time record high prices, feed prices are at historical highs and customers are more price sensitive than ever before.

The goal for the Mission:Possible event is for attendees to become relevant to their customers and to grow their business under these adverse conditions. So there will be lots of educational seminars as well as feed mill tours and some fun and fellowship. It's going to be an action packed day!
The keynote speaker will be Ross Shafer. We met him during this year's Agri-Marketing Conference. Looking forward to visiting with him again.
Listen to my interview with Clark here: Interview with Clark Springfield
Here are some ways you can stay connected with O.H. Kruse:
O.H. Kruse App: iOS Android
Text KRUSE to 68398
Facebook
Event Page