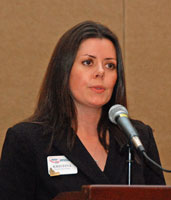 As Congress considers a 2012 Farm Bill, the top priority for the National Cattlemen's Beef Association is to eliminate the livestock title, according to NCBA Executive Director of Legislative Affairs Kristina Butts.
"The livestock title was new to the farm bill in 2008 and it brought us things like Country-of-Origin-Labeling, a national animal ID system and the GIPSA proposed rule that we've been working on for the last few years," Kristina said during the NCBA Policy Division meeting at the Cattle Industry Convention this week. "Our membership felt pretty strongly that this portion should be removed entirely from the farm bill." After discussions with agriculture committee leadership, Kristina says they do feel pretty confident that will be accomplished.
At the same time, Kristina says NCBA is advocating a strong conservation title with adequate funding.
Listen to or download Kristina's update here: Kristina Butts - NCBA Legislative Affairs