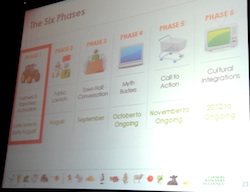 There was a great panel discussion during the General Session of the Cattle Industry Summer Conference 2011 in Kissimmee, Florida that focused on the movement being developed by the US Farmers & Ranchers Alliance (USFRA). The ultimate goal of the USFRA is to educate people about where their food comes from.
During a brief presentation by the National Cattlemen's Beef Association's (NCBA) CEO Forrest Roberts, he updated the cattle producers on how the campaign is coming along. Roberts said that this is the largest agricultural communications effort of its kind and the goal is to speak with "one voice". He said this is not a campaign, but a long-term movement that would foster a two-way dialogue with key influencers, policymakers and consumers.
During the meeting, the first phase of the campaign was officially kicked off – farmer and rancher activation. He stressed that in order for this movement to be effective, ranchers and farmers across the country would need to speak out.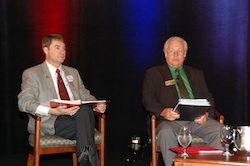 Weldon Wynn, a rancher from Star City, Arkansas who is a member of the CBB Executive Committee, said there are 49 different organizations involved ranging from cattle ranchers to corn and soybean organizations to vegetable growers, and they have a budget of $10 million dollars. This has allowed them to kick off the initiative they are promoting during the conference and that is to get the consumer involved and the producer involved. Wynn said they need to learn about how safe their food is and grassroots efforts are the only way this is going to happen.
Both Wynn and Roberts stressed the importance of getting farmers and ranchers involved, which you can do here. They asked that you fill out their survey here and also sign up to be one of the "voices of agriculture."
Listen to my interview with Weldon Wynn here: Weldon Wynn Discusses USFRA Efforts
Listen to Forrest Robert's comments regarding the initiatives of the U.S. Farmers & Ranchers Alliance here: Update on USFRA Beef Campaign
Photos from the conference will be posted to this photo album: 2011 Cattle Industry Summer Conference Photo Album. Check it often as we add to it over the next several days.