The Arkansas producer chairman of the Cattlemen's Beef Board has resigned for personal reasons, according to the organization.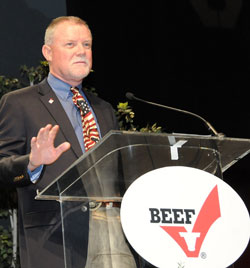 Tom Jones, Pottsville, Ark., tendered his resignation as chairman of the Cattlemen's Beef Board today. He also notified the Secretary of Agriculture of his resignation as a member of the Beef Board. Jones cited personal and family reasons for his decision, including the deteriorating health of his father. Jones was elected chairman of the Board in February of this year.
"I remain dedicated to the ideals of the checkoff and will be a strong supporter of the beef industry in the future," Jones said. "However, there are times when decisions become very clear and choices are not hard to make. My faith, my family, and my farm come first. With my dad's illness, both my family and my farm need more of my attention."
Beef Board Vice Chair Wesley Grau, Grady, NM, will lead the organization until the next convened board meeting, scheduled for August 4 in Orlando, Fla. At that time, the board will decide on further action.
CBB CEO Tom Ramey resigned just two weeks ago.