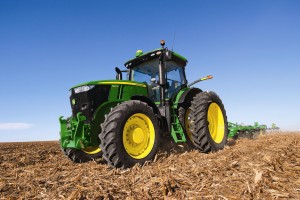 With a focus on increased power, versatility, capacity and improved operator comfort, John Deere introduces the 7R Series Tractors for the 2011-2012 season. These completely new row-crop tractor models have many of the performance features found in the larger 8R Series, making them even more productive in the field.
The 7R Series Tractors come with a wide array of new customer-driven features including the new IVT and Command Quad transmissions, options for larger tires, compact chassis, and greater engine horsepower ratings. These features give the 7R Tractors the versatility to handle the tillage, planting, haying, loader work and many other tough chores on the farm.
The 7R Tractors have 30 percent more fuel capacity and 23 percent greater hitch-lift capacity compared to their large-frame 7030 series predecessors. For rear-driven equipment, a new 3-speed economy PTO with power-assist PTO shifting is an available fuel-saving option. Inside the cab, John Deere has made major changes to enhance the operating experience.
The 7R models also can be equipped with ActiveCommand Steering, which utilizes breakthroughs in steering technology to deliver the ultimate in precise steering control, especially at transport speeds.