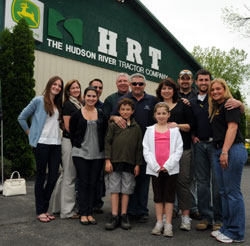 It's Drive Green Challenge time again this weekend. Today I'm in Clifton Park, NY visiting with Hudson River Tractor Company. I spoke with one of the owners, Tory Northrop, who gave me some background on how the company came together. He's in the group photo of the family members out here for today's event.
Tory says the merger that made what is now Hudson River Tractor Company happened in 2005. They serve a combined ag/consumer market with consumer now counting for over half of their business. The territory includes the Albany, NY metro area, northern New York City area and Chatham area. He says the Drive Green Challenge helps bring a lot more attention to all the products that John Deere offers and is a big draw. He says compact tractors and anything to do with improving their landscape seems to be of high interest right now. You can listen to my interview with Tory here: Tory Northrop Interview
You can see photos from the event in the Hudson River Drive Green Challenge Photo Album.