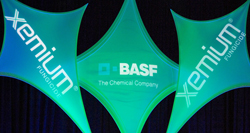 BASF Crop Protection is well known for the super effective and ever popular Headline fungicide, but company officials say the newly developed Xemium is a totally different animal that will serve to complement Headline.
BASF is developing uniquely-designed formulations that provide complete coverage of the leaf surface and systemic distribution to ensure the product not only moves within the leaf but also to other parts of the plant not covered during application. These optimized molecular formulas should provide several characteristics that will make Xemium valuable to growers.
"In two years of U.S. on-farm research, we have seen impressive results from Xemium fungicide, especially in disease control," said Scott Walker, Ph.D., BASF Biology Project Manager for Fungicides. "Field trials show Xemium to be a highly effective fungicide against several major crop diseases in a variety of crops including cereals, corn, soybean and specialty crops like pome and stone fruits."
Listen to or download my interview with Scott here: BASF Scott Walker Interview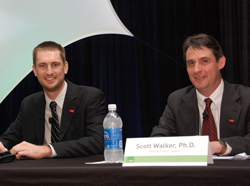 In the United States, Xemium will be a brand of fungicides, sold under the trade names Merivon™ fungicide, Priaxor™ fungicide and Systiva™ fungicide.
"Research has been conducted on these individual products, and we have seen consistent performance because of the continuous protection provided by Xemium," said Nick Fassler, BASF Technical Market Manager. "Merivon, Priaxor and Systiva will also be important tools for managing fungicide resistance. When used rotationally with other chemistries, products containing Xemium will help combat resistance to tough fungal pathogens."
Listen to or download me interview with Nick here: BASF Nick Fassler Interview
BASF Commodity Classic Photos
2011 Commodity Classic Photo Album
AgWired coverage of the 2011 Commodity Classic
is sponsored by:


and