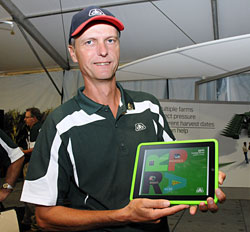 I've been looking for an excuse to post a Kip Cullers photo and decided the time was right. Kip, the king of bionic ag, is modeling at Farm Progress Show with an iPad showing what's new with Pioneer Hi-Bred. That's my connection here since I actually have an interview I did with Pioneer's Drew Porter.
Drew says the biggest news is Optimum AcreMax 1, "the industry's first
in-the-bag solution for corn rootworm refuge." He says it helps place the right product on the right acre. In the future they will "continue to focus on additional reduced refuge technologies to bring even that next level of simplicity to the Optimum AcreMax platform." They're also very excited to be showcasing the Y Series soybean lineup using accelerated yield technology.
You can listen to my interview with Drew here: Drew Porter Interview