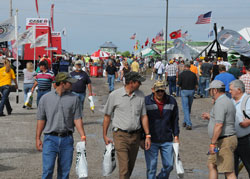 The 2010 Farm Progress Show is a wrap and even with some weather issues it was a good one. To wrap it all up I spoke with Show Manager, Matt Jungmann. He says that after 4 inches of rain on Tuesday night, what they accomplished on Wednesday was like a miracle. Since that overnight rain incident everything went very well. The Tuesday and Wednesday crowds topped the show when it was in Boone two years ago. Although we didn't get to have field demos for the second two days Matt says Tuesday's demos went great with corn harvesting at 150 bushels/acre. Matt says exhibitors are already talking about next year. I'm sure it will be a good one too!
You can listen to my interview with Matt here: Interview With Matt Jungmann
This doesn't conclude our coverage of the Farm Progress Show. Joanna and I have a lot more stories to post for you.
AgWired coverage of the 2010 Farm Progress Show
is sponsored by:

and