My good buddy Kip Cullers of Purdy, MO is the latest star of the BASF Top Plots video series.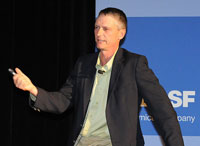 Known in farming circles as a "soybean celebrity," Cullers has established world records for soybean production at 139 bushels per acre in 2006 and 154 bushels per acre in 2007. He's also placed numerous times in the National Corn Growers Association (NCGA) National Corn Yield Contest with consecutive first-place finishes in the Irrigated Class.
As Cullers describes further in the video, he begins planting his crops early every season to help keep plants alive, happy and healthy throughout the year. According to Cullers, "A happy plant is a plant that's going to produce."
BASF also wants to remind growers that they have a chance to be one of 10 to win an iPod nano® just by learning about their Kixor® herbicide technology.
BASF recently introduced a new online training program for Kixor herbicide technology– www.kixoreducation.com – that provides valuable information on how Kixor helps address growers' toughest weed challenges, including those resistant to ALS inhibitors, triazines and glyphosate. Growers and retailers who complete the training before Sept. 30, 2010 will be entered into a drawing to be one of 10 people to win an iPod nano®.