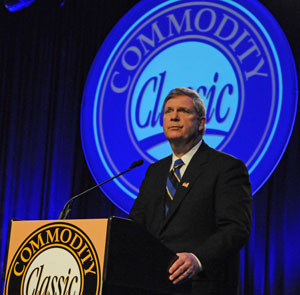 U.S. Secretary of Agriculture Tom Vilsack spoke to the crowd at Commodity Classic just moments ago. You can listen to his full speech below. Joanna is attending his press conference right now and I'll post audio from it later. Some of the standout phrases I heard included, "Different strategies for different markets" when he was talking about expanding world trade. He also said, "Rural America is the heart and the soul and the guts of America" when talking about revitalizing rural America.
Here are some of the points he made in his remarks taken from the USDA release:

Agriculture Secretary Tom Vilsack today discussed USDA's work to strengthen the American agriculture economy and revitalize rural communities in the keynote speech at the 2010 Commodity Classic in Anaheim, Calif. Vilsack focused on the USDA's efforts to increase exports of agricultural products to help American farmers, ranchers, and workers.
"USDA's continued work to expand trade opportunities for America's hard-working farmers and ranchers will play an important role in our effort to rebuild rural communities across the country," said Vilsack. "Increased trade will not only create important income opportunities for producers, but also the off-farm jobs that are so critical for revitalizing rural America."
While USDA has traditionally looked at agricultural trading partners by geographic region, under the new trade strategy outlined by Vilsack, USDA looks at countries based on their position on an agricultural market continuum, which enables tailored strategies to increase exports to each individual market. The continuum goes from fragile markets/food security states, to potential growth markets, to restricted access markets, to rapid growth markets, to developed consumer markets. The new strategy will improve collaboration among USDA agencies and guide priorities for international staffing, foreign assistance, and agricultural research.
For example, in potential growth markets, USDA programs will now emphasize building the institutional and human capacity needed to support increased trade, while in restricted access markets, USDA efforts are designed to remove trade barriers. In rapid growth markets, USDA will now emphasize using a full range of programs to build trade capacity, remove trade barriers and develop new markets for U.S. products.

Commodity Classic Photo Album
AgWired coverage of the 2010 Commodity Classic
is sponsored by:

and