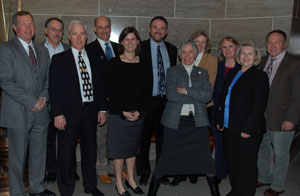 A new coalition has been formed to protect the rights of animal owners in Missouri. It's called Missourians for Animal Care. Here are representatives of some of the organizations that support the coalition who were meeting today in the Missouri State Capitol. The group is supporting a bill titled HCS/HJR 86 that would protect the right to raise animals in Missouri. Why? Because there are animal rights extremist groups like the Humane Society of the United States trying to get a ballot initiative going on that would put severe limitations on the ability of anyone to own and raise animals.
It's great to see a diverse group of agricultural groups coming together on an issue but this is one that would affect all of them. It's also sad that they have to fight a completely unnecessary ballot initiative. Dog breeders in Missouri are licensed and regulated and are great caretakers for their animals but wacko groups like HSUS are using a very derogatory and emotional term to try to gain support which would supply them with money and a foothold for future legislative actions. Their initiative is called The Puppy Mill Cruelty Prevention Act and you need to be aware of it.
To learn more about what's going on I spoke with Karen Strange, President, Missouri Federation of Animal Owners. Her group has filed a lawsuit challenging the ballot initiative summary which they believed is inadequate to describe what is in the measure itself. They're challenging the use of the term "puppy mill" which they do not use and is very prejudicial against anyone who breeds dogs. She says, "It's very, very offensive to the good breeders of Missouri." They have formed a PAC to raise funds to fight the ballot initiative.
Karen says they see this ballot initiative as just a "first step" to them coming after other agriculture interests. She says they want to help educate the public about this issue so they don't unknowingly pass something they don't understand the detrimental effects of. She says this is "nothing but a money making venture by an animal rights organization." She says we need to just enforce the rules we already have.
If you'd like to have a good resource to use for good information about what the H$U$ is doing then I recommend HumaneWatch.org. You'll find links to information about this issue there already.
You can listen to my interview with Karen here: