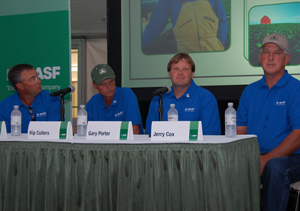 World champion soybean grower Kip Cullers is sharing the stage with three other award-winning corn and/or soybean grower in the BASF Theater at the Farm Progress Show, sharing how Headline® fungicide factors into the formula behind their success.
Kip was joined by fellow Missouri growers Gary Porter and Jerry Cox, as well as Texas corn grower champ Steve Albracht during a panel discussion yesterday which will be repeated this afternoon. All of them credited Headline fungicide with helping them maintain high yields in both corn and soybeans.
"Ya gotta use it, it's just a no-brainer," Kip says simply. "You gotta decide if you want to be on the 'die and dry' program or the 'ripen and yield' program – I prefer the ripen and yield program."
See photos of BASF at Farm Progress Show here on Flickr.
Listen to or download interviews with Kip, Gary and Jerry here: