It's an odd-numbered year, which means it's an Agritechnica year.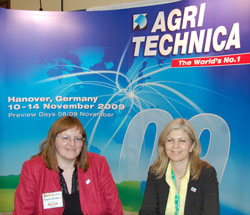 Agritechnica representatives Annette Reichhold (left) and Dr. Malene Conlong were talking with farmers at the Commodity Classic this week about planning a visit to Hanover, Germany for the event November 10-14.
"Agritechnica attracts 340,000 visitors from all over the world," says Malene with conference organizer DLG – the German Agricultural Society. She says that Agritechnica is considered the global agricultural "gathering point" and is often the chosen venue for manufacturers to unveil new innovations.
But Agritechnica is more than just an equipment show. "We bring together farmers from all over the world, we have special forums, we have conferences where farmers actually get together to talk about global issues," said Malene. This year the special focus is on soil and water issues. "We are presenting some of the potential solutions to those issues in various parts of the world."
Listen to my interview with the Agritechnica ladies at Commodity Classic here: cc09-agritechnica.mp3
2009 Commodity Classic Photo Album
AgWired coverage of the 2009 Commodity Classic
is sponsored by:

and