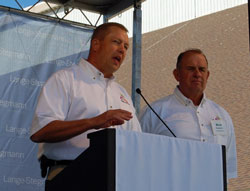 The brand new urea center in St. Louis received its official name at the grand opening ceremony on Tuesday – the Richard W. Stegmann St. Louis Urea Center.

Lange-Stegmann president Mike Stegmann (left) surprised his father Rich, who is chairman of the company, by naming the center after him. "It was really humbling," Rich said in an interview after the ceremony.
Lange-Stegmann, the parent company of AGROTAIN International, was started in 1926 by Rich's father-in-law Henry Lange and his brother Dewey. "At that time, it was meat scraps and tankage and steam bone meal that was fertilizer," said Rich.
The reason the plant was first located at the site near the Mississippi River was because it was next to the stockyards. "At that time a lot of livestock moved by rail and they had to unload it every 24 hours," Rich explained. "People would come in with trucks and they would haul back fertilizer."
Stegmann celebrates his 48th year with the company on Friday and he is proud that this global corporation is still very much family-owned. "And our employees are like family too," Stegmann says. "And that is very gratifying." A whole line of family, friends, employees and business associates lined up to cut the ribbon opening the urea center and the adjacent Stabilized Nitogen Center.
Listen to an interview with Rich here: agro-rich.mp3