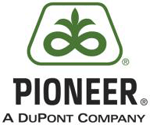 This timely alert just came out from Pioneer Hi-Bred. You can visit their website to find an agronomist in your area if you need help.

Growers Cautioned to Begin Scouting for Soybean Aphids
IMPORTANT NOTICE: Soybean aphids have been spotted in Iowa, Minnesota and New York. Although it is too early to spray, growers need to begin scouting. Pioneer agronomists are scouting daily for soybean aphids and other pests. For a report on the situation in your area, contact your local Pioneer agronomist.
EXCEPTION: With slower soybean growth in many parts of Iowa scouting will need to begin in early July.