Representatives from USDA's National Agricultural Statistics Service (NASS) were on hand at NAFB Trade Talk last month to discuss the 2013 crop and the 2012 census.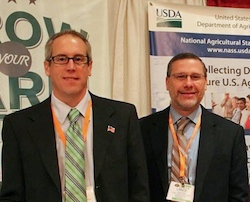 The 2013 harvest is considered completed at this point and Lance Honig with NASS says with a record corn crop and near record soybean crop forecast it's turned out to be a pretty good year, despite the weather challenges.
"We started one way, we kind of went another way.  It's just the weather shifting throughout the season, but apparently we had enough moisture at the right times to produce a good crop this year"
The November crop production forecast was the final one of the season so Honig says NASS is beginning the process this week of surveying some 80,000 farmers for the final end-of-season numbers coming out January 10.
Listen to my complete interview with Lance here: Interview with Lance Honig
Meanwhile, NASS is also gearing up to release the first numbers from the 2012 Census of Agriculture soon.  However, that release is running a little behind schedule due to the two week government shutdown in October.  According to Donald Buysse with NASS, the preliminary results are scheduled for release on February 20, 2014 at the Ag Outlook Forum, with the bulk of the data to come later.
Listen to my complete interview with Donald here: Interview with Donald Buysse
2013 NAFB Convention Photo Album