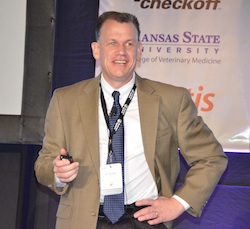 As part of the 2013 North American PRRS Symposium, Boehringer Ingelheim Animal Health hosted the BIVI PRRS ARC&E Seminar. It was a morning full of experts discussing PRRS Area Regional Control, as well as what is being done in the field.
The morning started off with Dr. Rodger Main, Director of the Veterinary Diagnostics Laboratory at Iowa State University. He provided the audience with an update on current PRRS diagnostic testing.
"The field of PRRS diagnostics has continued to evolve and continue to mature. The point I wanted to get across is the continuous improvement in the assays themselves, the processes that happen at the laboratory and the cooperative nature of our clients that has really improved the overall state of PRRS diagnostics in North America."
Dr. Main also discussed the use of oral fluids as diagnostic specimens, the use of premise ID and affiliate codes and other improvements the lab has taken to tackle the PRRS virus.
"In the field of PRRS diagnostics there has been substantial improvements over the past five years. All the primary assays that we are using today in the laboratory are all new and different, as well as a number of the key methods and processes that are occurring in the laboratory itself. PRRS has been around for a long time and I think that we would like folks to know that it continues to evolve and improve and it all begins with the client. One of the big things going forward will be around how we enhance our information management systems on both the front and back ends of the diagnostic process."
Listen to my interview with Rodger here: Interview with Dr. Rodger Main, Iowa State University
Here are photos from the event:2013 BIVI PRSS ARC&E Seminar Photo Album