NAFB Past President, Jack Crowner, passed away this week. Jack was a veteran of over 45 years in Farm Broadcasting, owning and operating the FARM SERVICE RADIO NETWORK, serving radio stations in Kentucky, Indiana, and other states, providing farm news and information daily over local rural radio stations that provide necessary farm and market information to their listeners. Jack served as Farm Director for WAVE stations in Louisville, WMT stations in Cedar Rapids, Iowa, and television stations in Evansville, Indiana and Lexington, Kentucky for over 30 years. He also served as the Executive Secretary of the Kentucky Beef Cattle Association from 1977 to 1981. Jack was also Senior Farm Director for WHAS-Radio and for the Kentucky News Network.
Jack served as announcer for the National Farm Machinery Show, Kentucky State Fair, North American International Livestock Expo and was the only auctioneer of the Grand Champion country ham at the Kentucky State Fair since the auction's beginning in 1964. Jack served for 20 years as a Director for Stock Yards Bank & Trust Company and also served as the Public Director of Farm Credit Services of Mid-America, including the states of Ohio, Indiana, Kentucky and Tennessee. Jack is survived by his wife, Sue, three children and five grandchildren.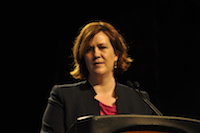 Current NAFB President, Janet Adkison, paid tribute to Jack during her remarks at the general session of Commodity Classic.
Listen to more of Janet's remarks here: NAFB President, Janet Adkison