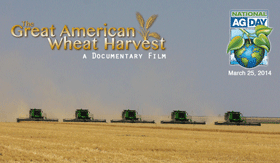 Movie screenings for The Great American Wheat Harvest have been scheduled and more will be.
The first one is April 2, 2014 in Lincoln, NE from 7-9pm which will be the kickoff of the "Heart of America Tour." The location is The Mary Riepma Ross Media Arts Center, University of Nebraska-Lincoln, 313 N. 13th Street. An RSVP is required. Register at https://gawh-lincolnpremiere.eventbrite.com.
The second one will be held on Friday, April 4th in Scottsbluff, NE. This is a *Special Event* with the Nebraska Wheat Board Mobile Baking Unit. The location is The Midwest Theater, 1707 Broadway.
Friday Night Doors Open at 6:45 p.m. (MST). Come early for treats provided by the Nebraska Wheat Board; Special Introductions; Meet the Filmmaker, Conrad Weaver; and pick up your Free Movie Poster! Film begins about 8 p.m. (MST). Tickets are $5 for Members/Students, $7 for Non-members and may be purchased at the Midwest Theater box office.
Other showings include:
Sat., April 5: 7:30 p.m.
Sun., April 6: 1:30 p.m.