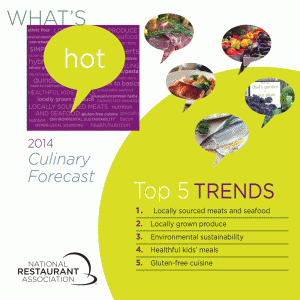 This forecast of What's Hot in 2014 looks way too healthy to me. Or maybe I should say it just looks kind of difficult to believe that when you hanker for some BBQ you're really going to be worrying about where the meat came from. I don't know. How about you?
Each year the National Restaurant Association (NRA) prepares its What's Hot culinary forecast of menu trends for the coming year. They surveyed nearly 1,300 professional chefs – members of the American Culinary Federation (ACF) – to find which food and beverage items will be hot trends on restaurant menus in 2014. You can see the full report here.
Top 10 food trends for 2014:
Locally sourced meats and seafood
Locally grown produce
Environmental sustainability
Healthful kids' meals
Gluten-free cuisine
Hyper-local sourcing (e.g. restaurant gardens)
Children's nutrition
Non-wheat noodles/pasta (e.g. quinoa, rice, buckwheat)
Sustainable seafood
Farm/estate branded items
The What's Hot in 2014 survey also found that the top five alcohol and cocktail trends will be micro-distilled/artisan spirits, locally produced beer/wine/spirits, onsite barrel-aged drinks, culinary cocktails (e.g. savory, fresh ingredients), and regional signature cocktails.
When asked which current food trend will be the hottest menu trends 10 years from now, environmental sustainability topped the list, followed by local sourcing, health-nutrition, children's nutrition and gluten-free cuisine.