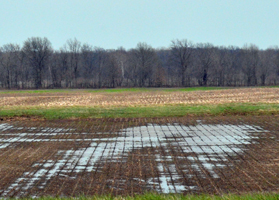 Planting progress continues to be slowed by wet and cold weather in most of the major corn producing states.

According to USDA, just 5% of the U.S. corn crop was planted as of Sunday, only a percentage point of difference compared to the previous week. Last year at this time, nearly half the crop was in the ground and normally at least 30% should be planted by now. All 18 major corn producing states are behind the five year average and five have nothing in the ground yet. Another half dozen have less than 3-4% planted.
John Grandin, Senior Field Sales Agronomist at GROWMARK, Inc. says that while planting is definitely running behind normal in the Corn Belt, it's nothing to worry about just yet.
"We're not behind the eight ball as far as we've missed out on all the growing degree days," said Grandin, who adds that field work is progressing in his area of Iowa.
Grandin stresses the importance of sticking with the original plan when it comes to nutrient management. "If the original plan calls for spring-applied anhydrous ammonia, then stick with spring-applied anhydrous ammonia," he said.
However, Grandin points out the possibility of burning corn roots or even killing the seedling if application is followed too quickly by planting. "We can manage that by putting the anhydrous ammonia on at an angle to the direction of row planting," he said. That will help decrease the possibility of free ammonia being trapped in the knife track as a result of wetter soils. "We don't want to be planting directly on top of the anhydrous knife track for any length of row."
Listen to this interview with Grandin to find out more: GROWMARK agronomist John Grandin