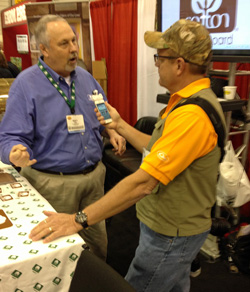 The Cotton Board is asking you to drop your jeans for a good cause. Their Blue Jean Go Green campaign is a denim recycling program that gives old denim new life as housing insulation for communities in need.
Monty Bain is the Southeast Regional Communications Manager for the Cotton Board and spoke with Chuck at the recent Mid-South Farm & Gin Show.
"We're taking old jeans and recycling them with a company called Bonded Logic out of Arizona turning them into housing insulation. They have already used them for Habitat for Humanity. They have collected over a million pairs and counting."
A not-for-profit organization, Cotton Incorporated launched its denim recycling program in 2006 to give people the opportunity to give back to their community in a meaningful way while giving new life to old denim. Through a partnership with Bonded Logic Inc., recycled denim is converted into UltraTouch™ Denim Insulation,a portion of which is given to communities in need across the country (predominantly through Habitat for Humanity affiliates). Additionally, grants of insulation have been awarded for the development of community-based buildings.
People across the country can drop off their old jeans and register for a chance to win a $300 gift card to Cabela's.
You can listen to Chuck's interview with Monty here: Interview with Monty Bain
2014 Mid-South Farm & Gin Show Photo Album