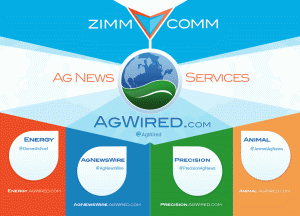 AgWired is owned and published by ZimmComm New Media, LLC. The parent company was founded in 2004 by Chuck and Cindy Zimmerman, with headquarters located near Pensacola, Florida and the beautiful beaches of the Gulf of Mexico.
ZimmComm has pioneered the new media specialty of "event blogging" – which includes multi-media coverage of any type of event from a workshop to a major convention. The ZimmComm team covers nearly every major annual agricultural event held nationwide, from the American Farm Bureau Federation annual meeting in January to the American Seed Trade Association CSS convention in December – and everything in between.
AgWired is published by ZimmComm New Media, LLC, owned by Chuck and Cindy Zimmerman. ZimmComm specializes in multi-media content creation for the agricultural industry and maintains several online publications, including Precision.AgWired.com, DomesticFuel.com and Animal.AgWired. The company also operates a customized news release production and distribution business called AgNewsWire which features their patented Talking News Releases, as well as links to audio and photos from all ZimmComm publications. AgNewsWire distributes news releases to over 2100 agricultural journalists.
AgWired Contacts
Publisher – Chuck Zimmerman – @agriblogger
Managing Editor – Cindy Zimmerman – @farmpodcaster
General Manager – Clint Underwood – @ClintUnderwood
Animal Ag Editor – Jamie Johansen – @JamieDJohansen
Precision Editor – Kelly Marshall – @DaddysTractor
Assignment Editor – Lizzy Schultz – @theLizzyKay
Contact:
ZimmComm New Media, LLC
1507 Templemore Dr.
Cantonment, FL 32533
850-780-6617