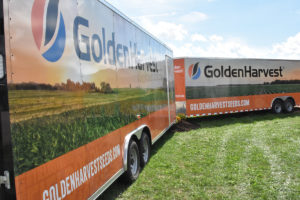 Growers choosing Golden Harvest Seeds will have a strong portfolio backed by consistent customer service in 2021.
Better than expected yields in some areas and market rallies are providing some optimism heading into the new year, said Dave Young, head of marketing.
"I think a lot of farmers were very happy with soybean yields, probably happier than they had a right to do with some of the weather experiences we had. Corn, also, a little more segmented by pocket but a lot of people were really happy. Even with some of the drought we had, we had some great yields off of some pretty droughty soils," said Young, who participated in the National Association of Farm Broadcasting virtual Trade Talk event.
Young said the company's agronomy book is available again this year.
"We brought that back last year. There was a hiatus of a number of years, but if you go on goldenharvestseeds.com, you can download that and it's real world agronomy data that's compiled by our agronomy research team. It's relevant, it's real, and it's a great resource for growers."
He said seed advisors are available to help all season long and also touted the company's Golden Advantage financing program that is continuing after great success in 2020.
2020 NAFB Interview with Dave Young, Golden Harvest
4:40