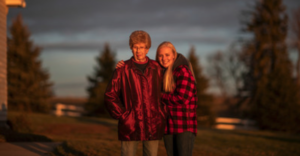 Hannah Borg, 22, of Wakefield, Nebraska, is the 2020 Syngenta #RootedinAg Contest grand prize winner. You can see her entry video here. In her heartwarming entry, Borg pays tribute to the matriarch of their sixth-generation family farm — her 86-year-old grandmother, Lois Borg
Borg is the seventh #RootedinAg Contest winner. She was chosen from a hearty pool of applicants and two other strong finalists with her testimony that moved both online voters and a panel of judges. The number of submissions this year was one of the largest – and one of the most difficult to rank, said Pam Caraway, Syngenta marketing communications lead.
"Thank you to everybody who took the time to share their story. Each submission was a delight to read or watch. Each story gives us confidence in the future of agriculture, thanks to those who take the time to teach us," Caraway said.
This annual competition from Syngenta invites growers and other ag industry professionals across the nation to describe the person who most nourished their agricultural roots for their submission entry.
To learn more about the program and the entries this year I spoke with Pam Caraway, Syngenta marketing communications lead. Interview with Pam Caraway, Syngenta (10:23)