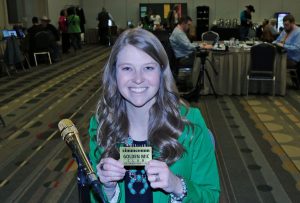 The National Cattlemen's Beef Association named Brandi Buzzard Frobose, a Kansas rancher, the 2019 Advocate of the Year.
Early in 2019, Buzzard Frobose wrote a letter to New York Congresswoman Alexandria Ocasio-Cortez in response to the proposed Green New Deal, which contained negative connotations towards cattle and misinformation about cattle's effects on climate change and the environment.
She explained more about her advocacy for the beef industry that led to interviews on national television networks including CBS, FOX, and MSNBC. You can follow Brandi Buzzard Frobose's advocacy efforts online at BuzzardsBeat.com or on social media at @BrandiBuzzard.
CIC2020 Beef Advocate Brandi Buzzard Frobose
4:10
2020 Cattle Industry Convention & NCBA Trade Show Photo Album