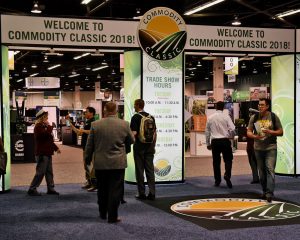 More than 8,000 farmers, agriculture leaders and ag advocates converged on the Anaheim Convention Center to "GROW BEYOND!" at the 2018 Commodity Classic which took place Feb. 27 thorough March 1.
Included in the preliminary number of 8,055 registered in Anaheim were a record number of non-exhibitor first-time attendees (1,533) and more than 150 media representatives. A total of 3,646 farmers from across the nation and several foreign countries were on hand to take part in a robust slate of educational sessions, tour the large trade show and hear from a wide range of experts and thought-leaders in agriculture. Attendance numbers are preliminary and subject to a final audit.
ICYMI – or you just want to relive it – we have lots of resources for you! Check out the virtual newsrooms below for photos, audio and video from Classic18.
2018 Commodity Classic newsroom
2018 Bayer AgVocacy Forum & Commodity Classic
FMC at 2018 Commodity Classic
John Deere at 2018 Commodity Classic
AMVAC at 2018 Commodity Classic
Farm Credit at 2018 Commodity Classic