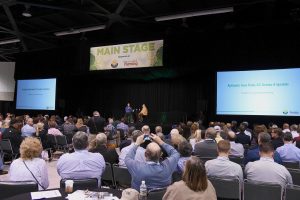 The vast majority of people know nothing and care less about Renewable Identification Numbers, or RINs, the multi-digit code created under the Renewable Fuel Standard (RFS) as a way to encourage refiners to blend more biofuels. But corn farmers both know and care what RINS are and why they are important.
As U.S. Secretary of Agriculture Sonny Perdue took questions on the main stage in the Commodity Classic Trade Show Thursday, former National Corn Growers Association (NCGA) president Pam Johnson of Iowa wanted to know specifically if the secretary supported a cap on RIN prices. "Because as a farmer, I do care about RINs, because we would be limited to the demand we have now," said Johnson.
"No, I don't think a cap on RINs is the solution, but we've got to engage in how to use this opportunity to grow demand…we can't sit back and just say no, no, no, no," Perdue answered. "My goal is to get the RVP waiver in a way where we can have E15 pumps be the norm by 2022."
Audio file: Pam Johnson/Secretary Perdue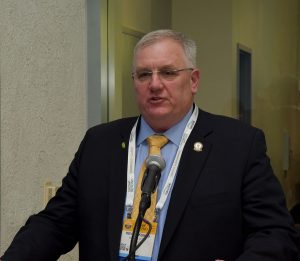 After two meetings on the issue at the White House last week, NCGA president Kevin Skunes said the corn growers don't understand the problem. "Farmers care about RIN values, not because we want them to be high, but because we want the RIN market mechanism to work freely to incentivize blending. Increased blending will, in turn, lower RIN values, exactly the way the RFS is intended to work. Government manipulation of the RIN market, on the other hand, disrupts the incentive to blend."
NCGA passed a resolution asking President Trump to retain the current RIN system without change.