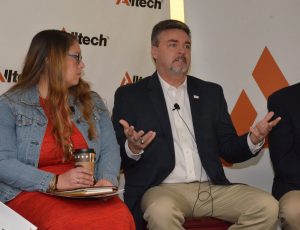 Earlier this year, Alltech launched the premium Blueprint® beef nutrition program for the CRYSTALYX® and Hubbard Feeds brands. The 2018 Cattle Industry Convention was a perfect spot for us to get the scoop. We caught up with Mark Robbins, Ridley Block Operations who said Blueprint Solutions is more than a simple supplement program.
"It's the total replacement of inorganic trace minerals with organic trace minerals which are bioplex, selplex and organic selenium. The inorganic trace minerals are sulfates, oxides and chlorides. Even though we have used them for years, we have always known they do have some baggage. They aren't nearly as available, they do degrade vitamins in mineral mixes and they aren't as palatable. Inorganic trace minerals also have a tendency to serve as an antagonist in the absorption of other trace minerals," Robbins said.
The Blueprint Solution program is available in a number of free-choice supplements to meet the needs of any type of operation.
"The one thing customers will notice about the CRYSTALYX Blueprint compared to one of our older products is how much lower the trace mineral levels are. That is because the organic trace minerals have a much higher bio-availability. We need to get our customers and dealers to understand these organic minerals perform much higher," Robbins said.
Listen to the complete interview here: Interview with Mark Robbins Ridley Block Operations