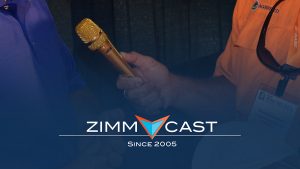 The 2018 National Farm Machinery Show continues to grow and evolve as evidenced by the changes in the location of exhibitors. This year even featured a new Varied Industries tent in the parking lot. There's a lot of room throughout the Kentucky Exposition Center but between the tractor pull and growth in exhibitors even more room is needed.
In this week's program I share interviews with Cyndee Smiley, Media Relations Manager for John Deere Ag & Turf and Ryan Quarles, Kentucky Commissioner of Agriculture. 
Cyndee was meeting with a lot of media and production folks like me. I got a few minutes to ask her to talk about her job and passion for agriculture.
I also met Kentucky Commissioner of Agriculture, Ryan Quarles.  Ryan was the only agricultural representative in a meeting with President Trump on the Infrastructure Rollout earlier in the week. We had a great conversation that I hope you will find informative and entertaining.
Listen to the ZimmCast here: ZimmCast 574 - From National Farm Machinery Show
Subscribe to the ZimmCast podcast here. Use this url in iTunes or your favorite news reader program/app.