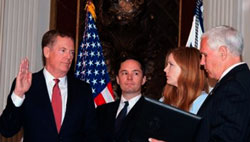 Just days after being sworn in as United States Trade Representative, Robert Lighthizer notified Congress that President Trump intends to renegotiate the North American Free Trade Agreement (NAFTA).
"Today, President Trump fulfilled one of his key promises to the American people. For years, politicians have called for the renegotiation of this agreement, but President Trump is the first to follow through with that promise," said Ambassador Lighthizer. "USTR will now continue consultations with Congress and American stakeholders to create an agreement that advances the interests of America's workers, farmers, ranchers, and businesses."
"While NAFTA has been an overall positive for American agriculture, any trade deal can always be improved," said Agriculture Secretary Sonny Perdue in response to the announcement.
Agricultural groups overall are optimistic that "modernizing" NAFTA will result in a better deal for farmers and ranchers. American Farm Bureau "looks forward to working with the administration, Congress, other agricultural groups, and officials in Canada and Mexico to protect these important markets while also addressing issues that have limited the trade potential of U.S. farmers and ranchers."
National Farmers Union urges the Trump Administration to negotiate "a new, fair trade framework that works for family farmers, ranchers, and rural residents…in a fashion that does not upset the positive trade relations the U.S. agriculture community relies upon."
National Corn Growers plans to work closely with the administration "to ensure any updates to NAFTA maintain or increase opportunities for America's farmers and ranchers."
Trilateral negotiations could begin as early as August 16.