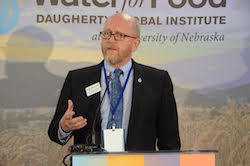 Based on the theme that global breakthroughs come from local action, the 2017 Water for Food Global Conference was successful in bringing that perspective to water and food security issues.
"Agriculture and water wherever you are in your locality, it's going to be different," said Daugherty Water for Food Global Institute executive director Peter McCornick. "But many of the factors involving ground water are key to having a sustainable system."
The institute is part of the University of Nebraska and McCornick says they have worked together to manage the water challenge locally and take those solutions to the global level. "Many countries do not have the expertise that we have here in Nebraska," he said.
There were dozens of interesting presentations at the conference related to water and agriculture, most of which are posted on the AgNewsWire virtual newsroom for the event.
Listen to Jamie's wrap up interview with Peter here: Interview with Peter McCornick, Water for Food Institute
Listen to McCornick's opening remarks here: Peter McCornick, Water for Food Institute, opening remarks