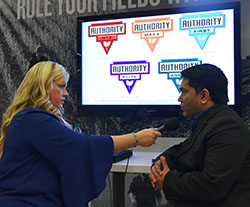 What's new with FMC? Of course that's our theme. Thank you to FMC for being a sponsor of our coverage of this year's Commodity Classic!
Let's start out my coverage of what's new with FMC with an interview with Kaustubh Borah. He is seen in the photo being interviewed by Sabrina Hill, AgNet West.
One of the new products coming to the FMC portfolio is the fungicide Bixafen. Here's some information from their announcement last fall.

FMC Agricultural Solutions has begun the joint U.S. Environmental Protection Agency and Canadian Pest Management Regulatory Agency registration process for bixafen, a new pyrazole carboxamide fungicide that belongs to a new generation of succinate dehydrogenase inhibitors (SDHI). Registration is being sought for corn, soybeans, cereals, canola, peanuts and potatoes in the U.S. and, in some instances, Canada.
Bixafen is highly effective against a wide range of fungal diseases in row crops. Data has been submitted for review of several target diseases including: Northern corn leaf blight and gray leaf spot in corn; frogeye leaf spot, brown spot and white mold in soybeans; septoria leaf blotch, stripe rust and stem rust in cereals; early blight and white mold in potatoes; white mold in canola; stem rot, leaf spot, leaf rust and Rhizoctonia limb rot in peanuts.

Kaustubh also talks about other products that are in the growing FMC portfolio.
Catch Chuck's full interview with Kaustubh here:
Interview with Kaustubh Borah, FMC