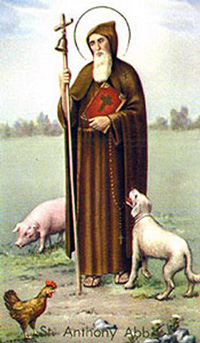 Today Saint Anthony Abbot, is commemorated by the Catholic Church. He is the patron and protector of animals. In Rome, St. Peter's Square will be filled with animals and the Italian Association of Livestock Farmers has organized a series of events to honor their patron saint.
From the Vatican News Service:

The day began at 10:30 with Mass in the Vatican Basilica presided by Cardinal Angelo Comastri, vicar general of His Holiness for Vatican City. At noon there was a procession of horses and riders along Via della Conciliazione in which the military band of the IVth Regiment of mounted police will take part. After the procession, around 12:30, the guests of honor, cows, goats, rabbits, sheep, chickens, etc., and their owners, were blessed.
The members of AIA also invited all residents with pets to join in the celebration and, if they wished, to make use of the free veterinary visit offered to their four-legged friends.
Throughout the day, from 9:00am to 3:00pm, there was an exhibition of animals in the Pio XII Square directly in front of the Bernini colonnade around St. Peter's Square, an entire farm in the city, showcasing Italian livestock production.