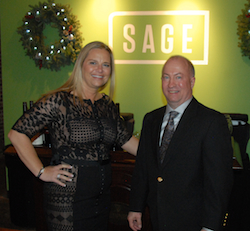 BCS Communications has changed its name to Sage, A Creative Marketing Agency. The name change reflects a new strategic direction and personality of the agency nearly 13 years after it was founded by company partners Leigh Ann Cleaver and Kelly Schwalbe. Last night the team celebrated the change and I took the opportunity to chat with them both.
Leigh Ann said the name Sage was selected because of its double meaning and relevance to agriculture. "Sage means wise, learned, perceptive, and that's the type of strategic communications insights, service and experience we believe we offer our clients. It's also a popular herb that enhances the flavor and taste of food – making something good even better."
Kelly added, "We have had twelve years of wonderful growth and experience with our clients and we just want to continue that into 2016. We want to serve our clients and provide the best Sage counsel that we can whether it's through PR, event planning, advertising, digital marketing or social media."
Looking into the future Leigh Ann summed it up perfectly by saying the goal for Sage is simply to do good business with good people and to have fun in the process.
Listen to my complete interview with the marketing duo here: Interview with Leigh Ann Cleaver and Kelly Schwalbe - Sage
You can view and download photos from the debut here: 2015 Sage Debut Photo Album